Our Vision: Affordable zero carbon industrial heat through flexible electrification
---
Our Mission Statement
Flex Power Solutions is passionate about decarbonising heat on Irish industrial sites. With integrity and competence, we install electrode boilers that convert excess renewable electricity generation into useful heat. By operating these boilers flexibly, we can help our clients to achieve 30% carbon reduction while saving money. Using our proven technology in new ways we maximise the use of existing grid infrastructure to minimise dispatch down of wind turbines, while providing a valuable service to the Transmission System Operator.
---
Flex Power Solutions Background
Ireland's success in wind generation is unmatched anywhere in the world. This low cost indigenous energy resource will benefit our economy as we move towards a net zero carbon future. In time, the gigawatts of offshore power will be used to produce green fuels and we will become an exporter of energy on a huge scale. In the meantime, our resource can be used to support jobs in cities and rural economies alike. The integration of flexible electric steam will give the dairy, pharmaceutical, drinks and other industries a competitive advantage, thereby securing jobs in Ireland.
Since 2016, our founders have been prototyping how industry can take advantage of the wave of low (and negative) priced electricity destined to be available in Ireland. Desktop prototyping led us to low-cost flexible electrification of heat. Once this optimal path was enlightened, there was no question but Parat Halvorsen had the technology and experience needed to bring Ireland into the low carbon future. The icing on the cake was the ability of the Parat technology to deliver system services needed by the Transmission System Operator under the regulated DS3 contracts. These will generate revenue for our clients willing to operate flexibly. In 2020 Flex Power Solutions was founded supported with an agency agreement from the world leaders in electrode boilers, Parat Halvorsen.
This is no longer a vision, this is ready now.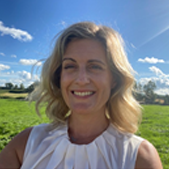 Helen O'Sullivan
Helen is a Business Executive with a BSc in Food Business. She is an expert in process improvement, project management and system implementation with over 20 years experience at management level in large multinational organisations. She specialises in working with multi-disciplinary groups in a technical field to agree shared goals and ensure a smooth transition. Helen is supported by electricity market expertise and industrial process engineering.
Reference Sites
Regulators
System Operators
Transmission Systems Map
Other